Malo Island in Talaud Regency, North Sulawesi Province
---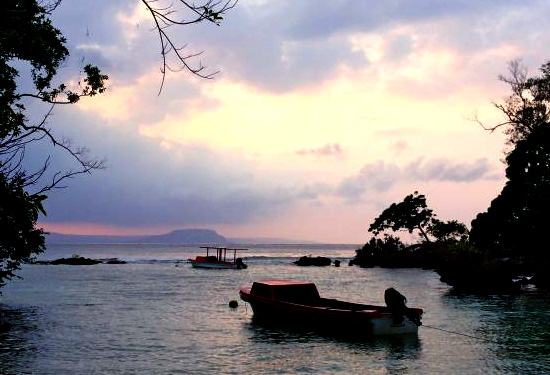 It is common knowledge that Talaud Regency is known for its beautiful islands. As for the reference, there is Malo Island with its stunning scenery and interesting local traditions. That means tourists are able to enjoy sightseeing and exploration once they arrive at the island. Many people also come to Malo to enjoy water sports like swimming, snorkeling, and diving. Plus, the atmosphere is suitable to enjoy relaxation or lessening. It is even said the island has the best sea scenery and cleanest environment! No wonder, it feels like spending a vacation in a paradise island!
The Nuance
As mentioned before, the best feature in Malo Island is the beautiful sea. This explains why people are likely to visit beaches when exploring the island. The water looks clear and beautiful with its calm waves. In terms of size, the island has the width of 34 km per square. No wonder, it is considered one of the smallest islands in Talaud Archipelago. For the information, no one lives there so the nuance is quite peaceful. Most parts of the island come with exotic white sand, as well.
Exploring Malo Island
The best reason to visit Malo Island is indeed to spend summer with families. Visitors do not need to have any detailed plan at all, in fact. What they need to do is to explore the island and enjoy the nuance. Still, there is an important tip to spend a wonderful holiday there especially related to the time. It is said the best time to visit Malo is between November and April. It is because the weather is the best when the sun shines the brightest. One thing, the rainfall is also high so it is better to choose the right moment to come to the island.
After deciding the right time to come to Malo Island, tourists should decide what kind of activities to do once arriving at the island. For the beginning, it is as simple as exploration. Even though it sounds tiring, it would be a great experience. As an alternative, tourists can simply sit by the shore and witness beautiful sea scenery. For those who love more challenging activities, they can get into the sea and swim in it instead. Have no worries. The water is quite clear and it feels so warm! Not to mention the waves are small, so it is quite safe for swimming and snorkeling.
The next good idea is to enjoy island hopping. That means tourists may rent a boat and visit nearby islands like Intata and Kokorotan. These islands belong to the same region after all, which is Nanusa Sub-District. One thing, it requires enough money to fund such kind of activity so everyone should prepare the budget beforehand.
Nearby Attractions

How to Get There
From Manado City, tourists only need to take an airplane from Sam Ratulangi International Airport and head to Melongguane Airport at Talaud Regency. This flight may take around 1 hour and 5 minutes. Once arriving at Melonguane City, they can get a boat service and head to Malo Island right away. This voyage takes approximately 3 hours.
Where to Stay

No accommodations are available in Malo Island.

Latest News
Everyone knows marine tourism destinations in North Sulawesi, Bunaken Marine Park will definitely be the main reference. In fact, many marine tourism destinations are scattered in the regencies of North Nusa which are no less beautiful. North Nusa is an area that includes three archipelagic districts at the northern tip of Sulawesi. The three archipelagic regencies are Sitaro , Sangihe and Talaud Islands Regency. Previously, these three regencies were part of the Sangihe Talaud Regency before they were divided. In Sitaro Regency (Siau Tagulandang Biaro) itself, there is a lot…
---
Since it was designated as a crossborder destination, Talaud Islands in North Sulawesi, began to improve its tourism. In addition to starting calendar of events, promotions, physical infrastructure to tourist support, Talaud make Sara Island became the mainstay of tourism icon. The uninhabited small island located in the Pacific Ocean is ready to be promoted for marine tourism. The exotic Sara Island with its fine white sandy beach. Regent of Talaud Islands Regency Sri Wahyuni Manalip said, Sara Island is one of the islands ready for sale for tourism activity.…
---
Lenso Dance Lenso is a folk dance from Minahasan, North Sulawesi and Maluku. The word Lenso means handkerchief, hence it uses that property during the dance. This dance is commonly presented in groups during some occasions or party, like wedding party, harvest time, new year, Christmas and many more. The most interesting from this dance is, the participants who are still single, can search for mate during the party by performing this dance. www.indonesia-tourism.com
---
Lembeh Island Lembeh island is part of Bitung administrative area in North Sulawesi. The island is separated from the mainland of Sulawesi Island by the Lembeh Strait. Lembeh island is famous for those who like to dive, because Lembeh island is the best diving spot after Bunaken. The divers recognized Bunaken as the Sea Garden in the Earth, but Lembeh is such a virgin island. It is untouched and almost to be the perfect diving spot. There are so many unusual habitats and exotic organisms live under Lembeh island, like,…
---