Nusa Dolong Island in Talaud Regency, North Sulawesi Province
---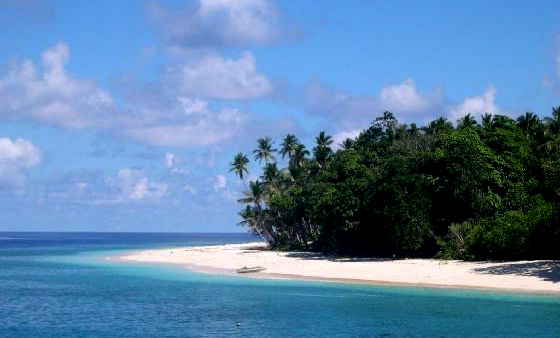 Located near to Lobbo Village, several beautiful islands reside including the one called Nusa Dolong. They belong to Talaud Regency of Indonesia. So, what makes that one famous? Aside from the beauty, the island also offers an interesting history related to the colonial era. Many people also call it Jolly Island, which the reason will be explained later. In a nutshell, tourists keep coming to the island to enjoy numerous activities like relaxation, snorkeling, learning history, and photography. Well, those who never visit it before should read more information here.
The Nuance
When it comes to size, Nusa Dolong Island is considered small. Still, like other islands of Talaud Regency, it comes with fabulous beaches. Once arriving at the coast, a peaceful ambiance and refreshing air welcome everyone. Some local fishermen boats are also seen on the horizon. Not to mention the waves are small, which are perfect for snorkeling and swimming. Another wonderful allure of the island is the sunset. The orange sky looks both soothing and romantic, especially if it is seen from the beach! This explains why photography also becomes a popular thing to do in Nusa Dolong.
Exploring Nusa Dolong Island
People have different reasons for visiting Nusa Dolong (Jolly) Island. Most of them want to learn the history, though. The name "Jolly" derives from the Dutch's sea lieutenant name. He died during the war against Balangingi Pirate in Beo Cape back then. This also explains why tourists may find his tomb on the island (which also becomes a reason to come to Nusa Dolong). For further information regarding the history of the island, tourists can ask either villagers or a tour guide later.
The next interesting fact is that Nusa Dolong Island is also related to the first influence of the gospel or Christian to Talaud Islands. No wonder, such historical value makes the island more valuable to both government and nearby villagers. At least, it helps them to lure more tourists to come to the island. Yet, it is more than just history. The island also has beautiful landscape and scenery for tourists to enjoy while in Indonesia. Visitors even have the chance to ride a local fishermen's boat on the shore!
The best spots to visit while spending a vacation in Nusa Dolong Island are Makatara, Awit, and Lobbo Village. Also, tourists should not miss the chance to visit Beo Cape where they can enjoy swimming and photography. Make sure to carry extra cash to pay the boat service, though.
Nearby Attractions

Tabang Beach
Nusa Bolong Island
Lobbo Beach
Nusa Topor Island
How to Get There
For the information, the location is near to Nusa Topor Island. Those who come from Manado City, though, they should get an airplane service at Sam Ratulangi International Airport and head to Melonguane City right away. The flight takes about 1 hour and 5 minutes. Upon the arrival, tourists should get a boat service at Lobbo Village by heading to North Beo Sub-District. This voyage may take around 2 hours.
Where to Stay


Latest News
Everyone knows marine tourism destinations in North Sulawesi, Bunaken Marine Park will definitely be the main reference. In fact, many marine tourism destinations are scattered in the regencies of North Nusa which are no less beautiful. North Nusa is an area that includes three archipelagic districts at the northern tip of Sulawesi. The three archipelagic regencies are Sitaro , Sangihe and Talaud Islands Regency. Previously, these three regencies were part of the Sangihe Talaud Regency before they were divided. In Sitaro Regency (Siau Tagulandang Biaro) itself, there is a lot…
---
Since it was designated as a crossborder destination, Talaud Islands in North Sulawesi, began to improve its tourism. In addition to starting calendar of events, promotions, physical infrastructure to tourist support, Talaud make Sara Island became the mainstay of tourism icon. The uninhabited small island located in the Pacific Ocean is ready to be promoted for marine tourism. The exotic Sara Island with its fine white sandy beach. Regent of Talaud Islands Regency Sri Wahyuni Manalip said, Sara Island is one of the islands ready for sale for tourism activity.…
---
Lenso Dance Lenso is a folk dance from Minahasan, North Sulawesi and Maluku. The word Lenso means handkerchief, hence it uses that property during the dance. This dance is commonly presented in groups during some occasions or party, like wedding party, harvest time, new year, Christmas and many more. The most interesting from this dance is, the participants who are still single, can search for mate during the party by performing this dance. www.indonesia-tourism.com
---
Lembeh Island Lembeh island is part of Bitung administrative area in North Sulawesi. The island is separated from the mainland of Sulawesi Island by the Lembeh Strait. Lembeh island is famous for those who like to dive, because Lembeh island is the best diving spot after Bunaken. The divers recognized Bunaken as the Sea Garden in the Earth, but Lembeh is such a virgin island. It is untouched and almost to be the perfect diving spot. There are so many unusual habitats and exotic organisms live under Lembeh island, like,…
---