Piapi Mountain in Talaud Regency, North Sulawesi Province
---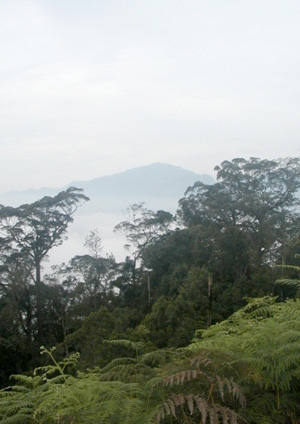 Visiting new places give everyone a new experience, especially related to tourism. In this case, visiting Talaud Regency would be a nice plan. Not only tourists are able to find many beautiful islands and beaches, but they can also find several places to enjoy trekking and sightseeing. As for the reference, there is Piapi Mountain located in Karakelong Island. To be exact, the location is in Pulutan Village and it is the second tallest mountain after Manuk Darua Mountain. As tourists may expect, they can enjoy hiking, sightseeing, photography, and exploration on this beautiful mountain.
The Nuance
In terms of size, Piapi Mountain is indeed big. It is, as mentioned before, one of the tallest mountains in Talaud Regency. The height is approximately 800 meters above the sea level and it features various landscapes including bushes, savanna, etc. The thing is tourists won't find many animals living on the mountain. The prime allure of the mountain is definitely the scenery. The views are quite amazing up there, so tourists should get to the top of the mountain at all cost. Have no worries. The route is easy and it won't take much time to reach the top of it.
Exploring Piapi Mountain
It is said every mountain have their unique flora and plants growing on them. Well, Piapi Mountain is not an exception. The fact is that tourists may find beautiful Bletilla striata or "Anggrek Tanah" on the mountain. Moreover, they won't find this stunning species in other mountains! The only consideration is related to the time of visit. Everyone should only come when the flowers are blooming. Otherwise, they would miss the chance to witness such beautiful flora.
The next allure of Piapi Mountain is the soothing and peaceful atmosphere of the highland. Somehow, it is suitable to enjoy relaxation and sightseeing. That means visitors can get rid of stresses and boredom by reaching the top of the mountain. The perfect panorama and refreshing air of the mountain help them to find peace for sure. Not to mention it gives them the opportunity to collect great pictures using a camera, especially during a good weather.
Trekking or hiking becomes another reason why more people keep coming to Piapi Mountain. Thus, everyone who loves outdoor activities is able to satisfy their hobby there. The trekking route is easy and short, so it is suitable for beginners as well. What tourists need to consider is related to the supplies. It is important to carry enough bottled water and snacks while heading to the top of the mountain.
Nearby Attractions

Sinai Church
Arangaca Beach
Al Inayah Mosque
Awawanna Beach
Melonguane City
Piapi Mountain
Pulutan Village
How to Get There
Piapi Mountain is located in Karakelong Island. From Manado City, tourists should head to Melonguane City first. That means they should take an airplane at Sam Ratulangi International Airport and head to Melonguane Airport at Karakelong. Have no worries. The flight only takes around 1 hour. Once arriving at Melonguane City, the next destination is Pulutan Village. The distance is 21.5 km, so the trip may take around 34 minutes.
Where to Stay


Latest News
Everyone knows marine tourism destinations in North Sulawesi, Bunaken Marine Park will definitely be the main reference. In fact, many marine tourism destinations are scattered in the regencies of North Nusa which are no less beautiful. North Nusa is an area that includes three archipelagic districts at the northern tip of Sulawesi. The three archipelagic regencies are Sitaro , Sangihe and Talaud Islands Regency. Previously, these three regencies were part of the Sangihe Talaud Regency before they were divided. In Sitaro Regency (Siau Tagulandang Biaro) itself, there is a lot…
---
Since it was designated as a crossborder destination, Talaud Islands in North Sulawesi, began to improve its tourism. In addition to starting calendar of events, promotions, physical infrastructure to tourist support, Talaud make Sara Island became the mainstay of tourism icon. The uninhabited small island located in the Pacific Ocean is ready to be promoted for marine tourism. The exotic Sara Island with its fine white sandy beach. Regent of Talaud Islands Regency Sri Wahyuni Manalip said, Sara Island is one of the islands ready for sale for tourism activity.…
---
Lenso Dance Lenso is a folk dance from Minahasan, North Sulawesi and Maluku. The word Lenso means handkerchief, hence it uses that property during the dance. This dance is commonly presented in groups during some occasions or party, like wedding party, harvest time, new year, Christmas and many more. The most interesting from this dance is, the participants who are still single, can search for mate during the party by performing this dance. www.indonesia-tourism.com
---
Lembeh Island Lembeh island is part of Bitung administrative area in North Sulawesi. The island is separated from the mainland of Sulawesi Island by the Lembeh Strait. Lembeh island is famous for those who like to dive, because Lembeh island is the best diving spot after Bunaken. The divers recognized Bunaken as the Sea Garden in the Earth, but Lembeh is such a virgin island. It is untouched and almost to be the perfect diving spot. There are so many unusual habitats and exotic organisms live under Lembeh island, like,…
---