Tuabatu Village in Talaud Regency, North Sulawesi Province
---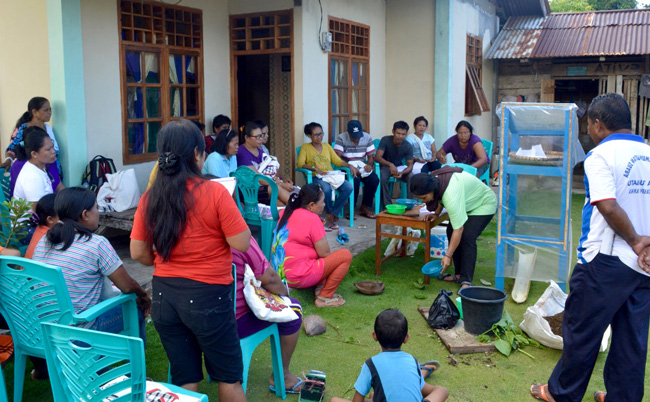 A nice vacation always involves a distinct tourist site. For those looking for a new place to visit, there is Talaud Regency in North Sulawesi Province. The region consists of lots stunning islands with its majestic natural attractions. Not to mention it is the home of various historical villages including the one called Tuabatu. This one is located in Tampa Na'mma Sub-District, actually. Tourists often come to the village to learn the history, enjoy the nuance, eat some local foods and get close to villagers actually.
The Nuance
Being one of the most famous villages in Talaud Regency, Tuabatu indeed has attracted lots of tourists over time. In terms of nuance, the village has both the beauty and comfort. It is because the site is surrounded by various types of plants and trees. Plus, the location is near to a shore so tourists can witness exotic sea scenery from there. What about the settlement? People who live in Tuabatu Village are friendly and they retain their traditions well. No wonder, the peaceful and harmonious way of living may impress all visitors!
Exploring Tuabatu Village
When it comes to a vacation in Tuabatu Village, tourists may recognize the importance of the history of the Talaud Regency. It is because they can find many villagers who know thorough information about it. Thus, they don't need to hire a tour guide if they want to learn more about the story. Moreover, the information is free to acquire. What tourists need to do is to talk to the locals and get the information right away. For foreigners, though, they need to know a little bit of the Indonesian Language.
The next thing to do in Tuabatu Village is photography. That means tourists should explore the settlement and find good objects to capture. These include traditional houses, villagers' activities, natural scenery, and many others. Do not forget to take pictures with those people during the visit later. When it comes to natural attractions, the best one is definitely Sarro Lake which has become the icon there. It is also the pride of Sara Island, in fact. So, all tourists should not miss the chance to visit the lake while exploring the village later.
What is more? Visitors should not forget to try delicious local foods during a visit to Tuabatu Village. Have no worries. The locals are friendly enough to share the foods to visitors. That means tourists do not need to spend money to try some. Here is the reference. The best food to try is called Bangket Sagu Cake. In terms of appearance, it is similar to a rolled cake but it tastes better!
Nearby Attractions

Sinai Church
Arangaca Beach
Al Inayah Mosque
Awawanna Beach
Melonguane City
Piapi Mountain
How to Get There
From Manado City, tourists should take an airplane at Sam Ratulangi International Airport and head to Melonguane City right away. This flight may take around 1 hour and 5 minutes, actually. Once arriving at the destination, they can take any available local transportation service and head to the village which takes about 1 hour and 30 minutes.
Where to Stay


Latest News
Everyone knows marine tourism destinations in North Sulawesi, Bunaken Marine Park will definitely be the main reference. In fact, many marine tourism destinations are scattered in the regencies of North Nusa which are no less beautiful. North Nusa is an area that includes three archipelagic districts at the northern tip of Sulawesi. The three archipelagic regencies are Sitaro , Sangihe and Talaud Islands Regency. Previously, these three regencies were part of the Sangihe Talaud Regency before they were divided. In Sitaro Regency (Siau Tagulandang Biaro) itself, there is a lot…
---
Since it was designated as a crossborder destination, Talaud Islands in North Sulawesi, began to improve its tourism. In addition to starting calendar of events, promotions, physical infrastructure to tourist support, Talaud make Sara Island became the mainstay of tourism icon. The uninhabited small island located in the Pacific Ocean is ready to be promoted for marine tourism. The exotic Sara Island with its fine white sandy beach. Regent of Talaud Islands Regency Sri Wahyuni Manalip said, Sara Island is one of the islands ready for sale for tourism activity.…
---
Lenso Dance Lenso is a folk dance from Minahasan, North Sulawesi and Maluku. The word Lenso means handkerchief, hence it uses that property during the dance. This dance is commonly presented in groups during some occasions or party, like wedding party, harvest time, new year, Christmas and many more. The most interesting from this dance is, the participants who are still single, can search for mate during the party by performing this dance. www.indonesia-tourism.com
---
Lembeh Island Lembeh island is part of Bitung administrative area in North Sulawesi. The island is separated from the mainland of Sulawesi Island by the Lembeh Strait. Lembeh island is famous for those who like to dive, because Lembeh island is the best diving spot after Bunaken. The divers recognized Bunaken as the Sea Garden in the Earth, but Lembeh is such a virgin island. It is untouched and almost to be the perfect diving spot. There are so many unusual habitats and exotic organisms live under Lembeh island, like,…
---